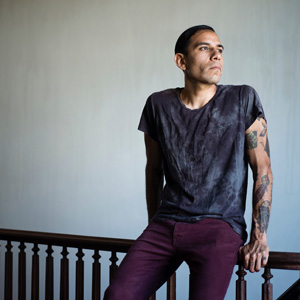 Yatika Starr Fields
Rainmaker Gallery is honoured to welcome Yatika Starr Fields to Bristol for a solo exhibition opening in July 2017 and showing until late October. During his visit to the UK Yatika will also be participating in UPFEST – Europe's largest Street Art & Graffiti festival here in Bristol.
Since his youth Yatika Fields has been the recipient of an impressive number of awards for his art. He attended the Art Institute of Boston where he continued to paint and became involved in the urban graffiti culture. It was during this time that he started working on mural projects and became well known for street art. As well as being a celebrated street artist Yatika enjoys a successful career as a gallery artist.
Yatika Starr Fields was born in Tulsa, Oklahoma, he is a member of the Cherokee, Creek and Osage tribes, and is Bear Clan. His Creek name "Yvtekv" means interpreter. His Osage name, Ho-moie, translates as among the heavenly bodies.
"I am motivated in my work fundamentally by the search for freedom in all forms. I seek to create a contemporary terrain in the juxtaposition of my living memories. Dissolving elements of space and time, I create a synthesis of symbolic forms and objects floating and bending on the canvas at all angles, negating the horizon and the rule of linear experience. The objects and forms represent the past and present from my perspective as a member of the Osage, Cherokee and Creek Nations of Oklahoma surrounded by beautiful colors and patterns joined by rhythm and dance from tradition. Fast paced cities and humble highways of the plains are defined by a historical layering of cultures, art, and creativity that I seek to portray. In the essence of painting, my process has journeyed from abstract to most recently focusing on representational, by removing what the eye perceives and knows and leaving what the body feels with hints of dialogue revealing truths and questions — sensation through color and movement — tied together with cultural affinity but provoked by general concerns of world differences. The creation mythology of this space is narrated in my work from inspirations of Culture, travels abroad and life in Boston, New York City the Pacific Northwest and now back in the state I was born, Oklahoma. Resulting in an explosion of current experience, In this suspended trichotomy between nature, urban experiences, and traditions, a new world is made."
"My work begins swiftly and intuitively, as momentum shapes the composition on canvas. I challenge myself to integrate the physical environment around me with its unseen emotional life. Gradually the narrative of the piece is revealed. From here I work to detail the painting's subject in nuances. My process focuses on fluidity of form and boldness of palatte, bringing the unseen alive in a way that will inspire in my audience a revelation of ideas, color, and form; reshaping their relationship to what they take for granted." -Yatika Starr Fields
Rainmaker Exhibitions featuring Yatika Starr Fields