BELONGING, 7 March – 6 May 2023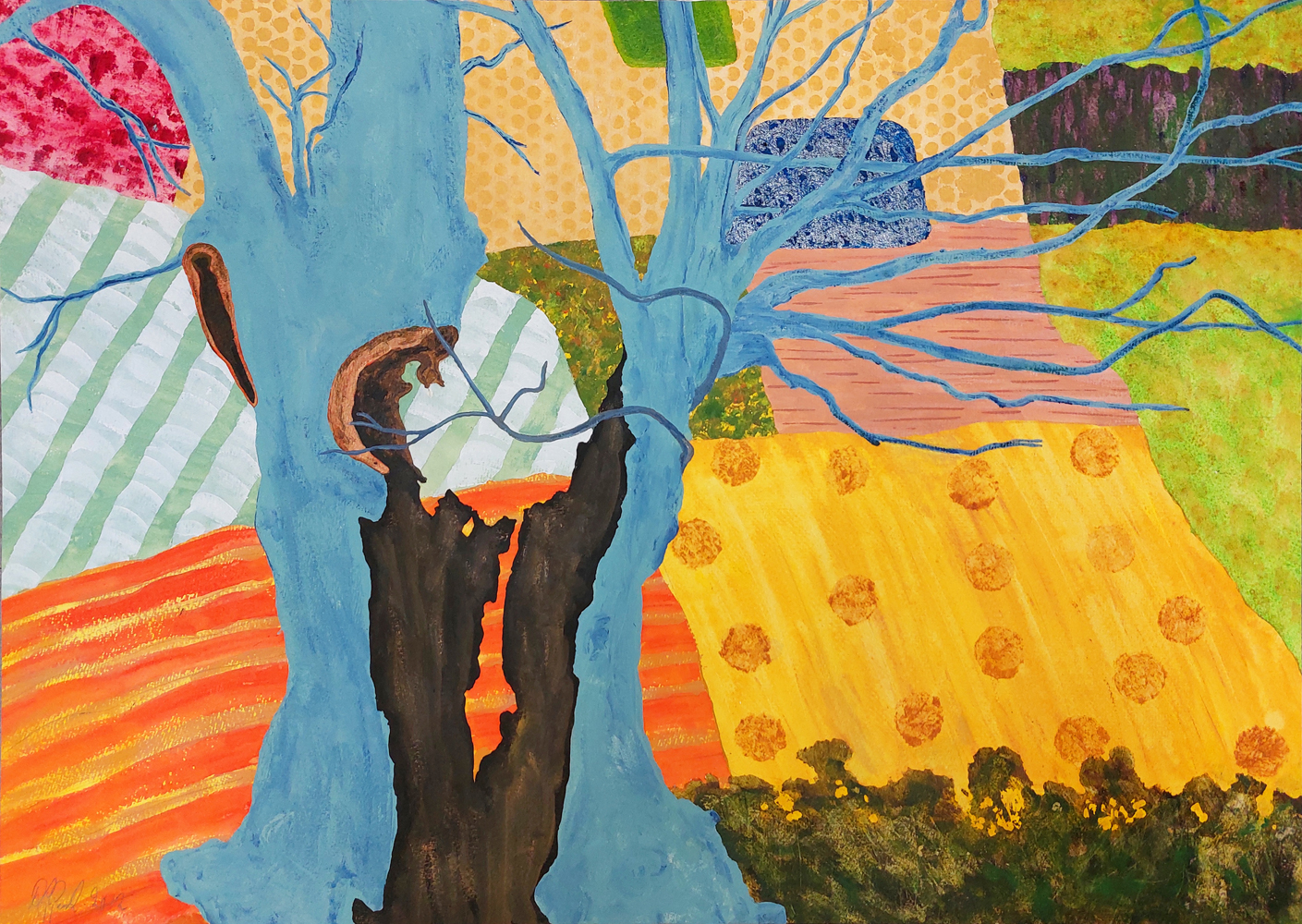 In this solo exhibition artist Rick Grimster explores his relationship to the country of his birth. A war baby born to a Mvskoke father and an English mother in London in 1945, his life is but one of the numerous unique stories that make up the Indigenous diaspora.
Richard Geoffrey Grimster is an enrolled citizen of the Muscogee (Creek) Nation. He graduated from Cheltenham School of Art in the 1960's and gained an MFA from Birmingham Polytechnic. An intensely private man, he has continued to make art throughout his life without any desire to exhibit his work, until now.
"Without painting, I would have no way of expressing myself." – Rick Grimster
The artist's birth father, Freeman Marshall (1909-2000), was an American GI based in England, serving in the Airforce from 1943-45. After the war he worked as a nurseryman in Oklahoma, planting and nurturing young trees until his retirement. Significantly, his son speaks of a powerful affinity with trees, evident in many of the Cotswolds landscape paintings featured in this exhibition.
Whilst Grimster's abstracted landscapes fit firmly into the school of mid-century British modernism, they are elevated by an instinctive and unbridled joy of colour and a love of nature aligned with his Native American heritage.
Where we land on this Earth is dictated by forces beyond our control – migration, colonialism and in this case, World War II. How we make sense of our individual journeys is up to us. Rick Grimster finds peace and belonging through his lifelong love of painting, his tribal heritage and an unbreakable connection to land, wherever he may be.
Exhibition Event
Tuesday, 21st March, 2-6pm
Hear Lucy Sadler, daughter of the artist, in conversation with resident curator Jo Prince. Learn about the family's fascinating story and how it has influenced her father's artistic expression.
"This exhibition is a milestone in our story. Interracial adoption, displacement from our homelands, and finding connection with our tribe, family and nature are threads that are strongly visible throughout my Dad's art, culminating in the joyous landscapes in this exhibition." – Lucy Sadler
This event will take place in the gallery, followed by a Q&A and a celebration with the artist.
There is a cost of £10 per person for this talk.
To book, please email jo@rainmakerart.co.uk or call the gallery on 0117 973 0398.