The UK Specialist in Contemporary Native American Indian Art and Jewellery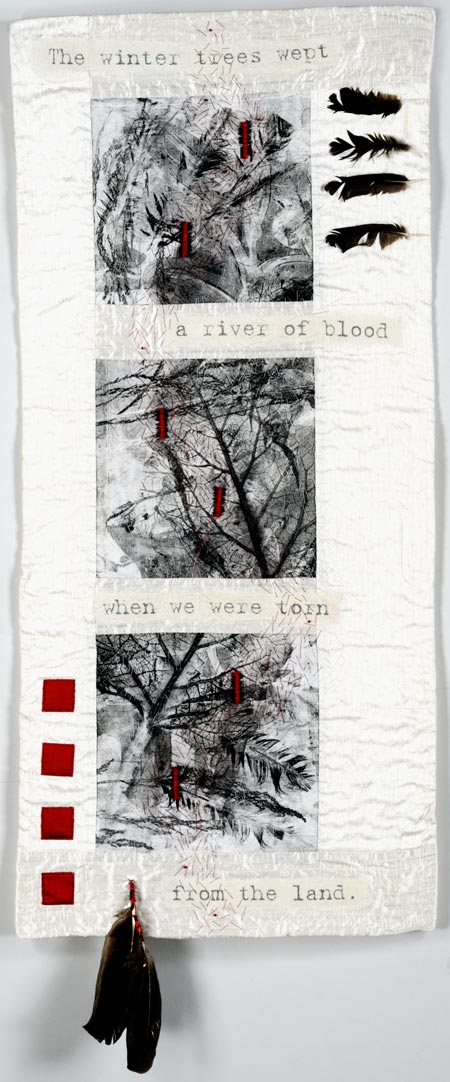 Winter 2021
Well here we are again, back in lockdown! This means that the gallery is closed to visitors but you can still make purchases on the website. Feel free to email with any enquiries.
In a parallel universe, the gallery is showing a selection of artworks by some of our favourite Indigenous artists. The pieces have been selected for a seasonal palette of predominantly black, white and red.
This winter exhibition includes original paintings by Marla Allison, minimalist serigraphs by Jordan Ann Craig, an abstract oil painting by Yatika Starr Fields, a digital composite photographic print by Shan Goshorn, fine art photographic portraiture from Cara Romero, exquisite mixed media textiles by Melinda Schwakhofer, bold formline serigraphs from Preston Singletary, mercurial tintype photographic portraits by Kali Spitzer and Will Wilson and a silver halide print by Eugene Tapahe.
Alongside the exhibition we have a sumptuous display of titanium Tech Feather earrings by master metalsmith Pat Pruitt and a gathering of Katsina dolls from Hopi Arizona.
Thank you for supporting independent businesses through these challenging times. We wish you a happy and healthy 2021!
Made with Love
In addition to original art, at Rainmaker Gallery we carry an exclusive range of expertly hand-crafted Native American jewellery, Zuni fetish carvings and magnificent Pendleton blankets. All our items make unique and meaningful gifts to treasure for life and are available for you to purchase right here on the website.
Subscribe to our newsletter