The UK Specialist in Contemporary Native American Indian Art and Jewellery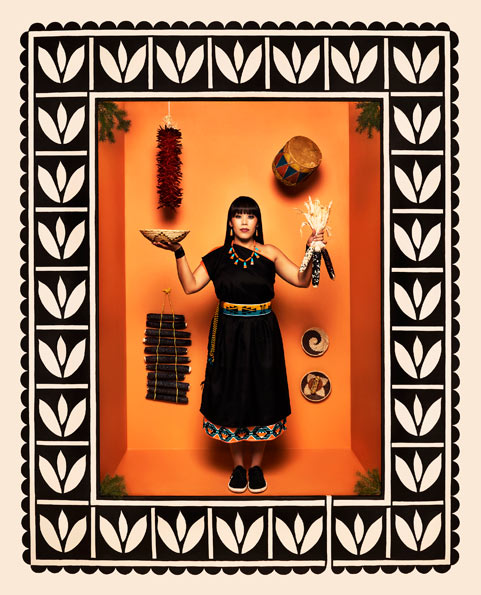 Autumn 2020
Rainmaker Gallery is currently showing a selection of paintings, fine art prints and photographs by some of our favourite Indigenous artists. The artworks have been chosen for their seasonal palette. Rich autumnal oranges, reds and golds celebrate this season of natural abundance.
The featured artwork is a portrait of 'JULIA' a member of the Cochiti Pueblo tribe. Julia is photographed in a specially constructed, life size box surrounded by carefully chosen objects important to her culture. The indigenous blue, red and white corn, glorious red chillis, evergreen spruce boughs and woven baskets reveal a contemporary culture still deeply connected to the seasons and the natural world. This image is one of several portraits from the ongoing 'First American Girl' series by Chemehuevi fine art photographer Cara Romero.
Made with Love
In addition to original art, at Rainmaker Gallery we carry an exclusive range of expertly hand-crafted Native American jewellery, Zuni fetish carvings and magnificent Pendleton blankets. All our items make unique and meaningful gifts to treasure for life and are available for you to purchase right here on the website.