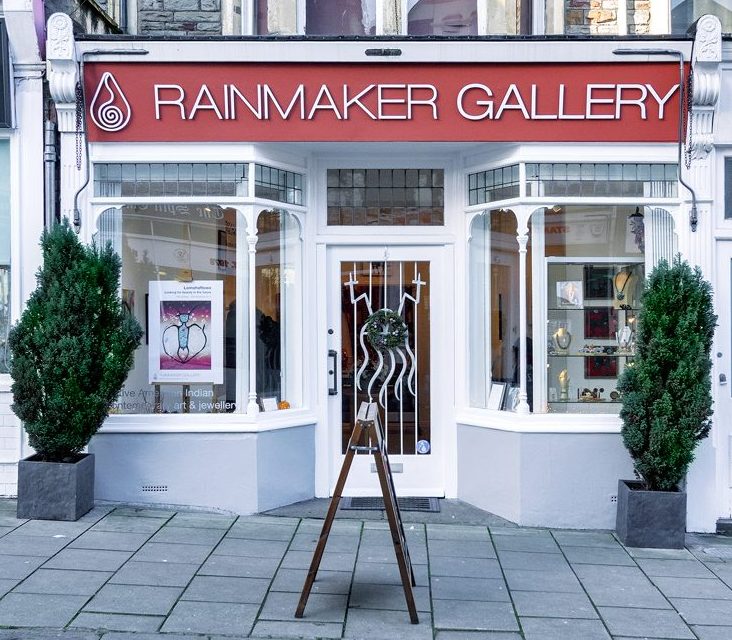 Gallery Opening Hours
Tuesday – Friday 10am – 5.30pm
Saturday 10am – 5pm
August closing
Rainmaker Gallery will be closed from 11th – 31st August for our annual summer trip to the USA. The gallery will re-open on Tuesday 3rd September 2019. Internet orders placed during this time will be despatched at the beginning of September. Wishing you a glorious summer!
We are located at: RAINMAKER GALLERY 123 Coldharbour Road, Westbury Park, Bristol BS6 7SN
See map below.
There is free parking outside the gallery (restricted to one hour) and unrestricted parking on the side streets off Coldharbour Road.
Website
If you have any questions about the Native American art or jewellery featured on our website, please contact Rainmaker by calling Jo at the gallery on the number below or by email. If you would like to purchase Native American art or jewellery depicted on this site you can pay online by Paypal, credit card, debit card or direct transfer. If the item you wish to purchase does not have an 'add to basket' button, please contact the gallery for details of price and availability.
Contact
Telephone
+44 (0)117 944 3101
This website is a small taste of the Native American jewellery and art available from Rainmaker Gallery, more of which can be viewed by visiting our Bristol gallery or joining the email list. We send out a brief newsletter every six to eight weeks with information about news, exhibitions and events. Subscribe below to receive our newsletters.
To read about Rainmaker Gallery's commitment to privacy and data protection, please click HERE.