BIRTHRIGHT – Journeys of Reconnection, 15 September – 6 November 2021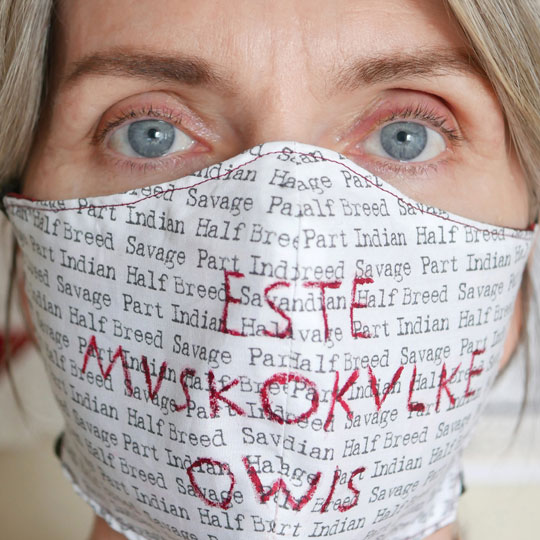 This exhibition brings together two artists from different backgrounds who share a common experience. It documents the ongoing journeys of cultural reconnection by painter Jasmine Coe (Wiradjuri & British) and textile artist Melinda Schwakhofer (Muscogee (Creek) & Austrian-American).
Both artists grew up geographically and culturally separated from their respective Indigenous families. Reaching out to their estranged communities has profoundly affected their creative expression. Through textile, painting and printmaking, art has provided a vehicle for cultural exploration, self-determination, self-realisation and a sense of belonging.
"I use cultural iconography relevant to Mvskoke people in much of my art. Since 2008 I have been creating a body of work which has helped me explore and come to terms with the devastating effects of the historical trauma handed down through my Native American family line." Melinda Schwakhofer

"Race and identity are the invisible underlying themes of my art, providing a space to work through the conflicts and complexities of being mixed race. The process of painting allows me to connect to nature and reinstate the values of my Wiradjuri heritage, 'to care for country'. By representing these values through my painting, I find healing." Jasmine Coe
In a post-colonial world millions of people find themselves growing up at distance from their ancestral homelands. The lived experience of being separated from genetic heritage and cultures can sometimes be confusing or even invalidating. BIRTHRIGHT is dedicated to all people experiencing journeys of cultural disconnection or reconnection.