CARA ROMERO exhibition, 8 March – 31 May 2018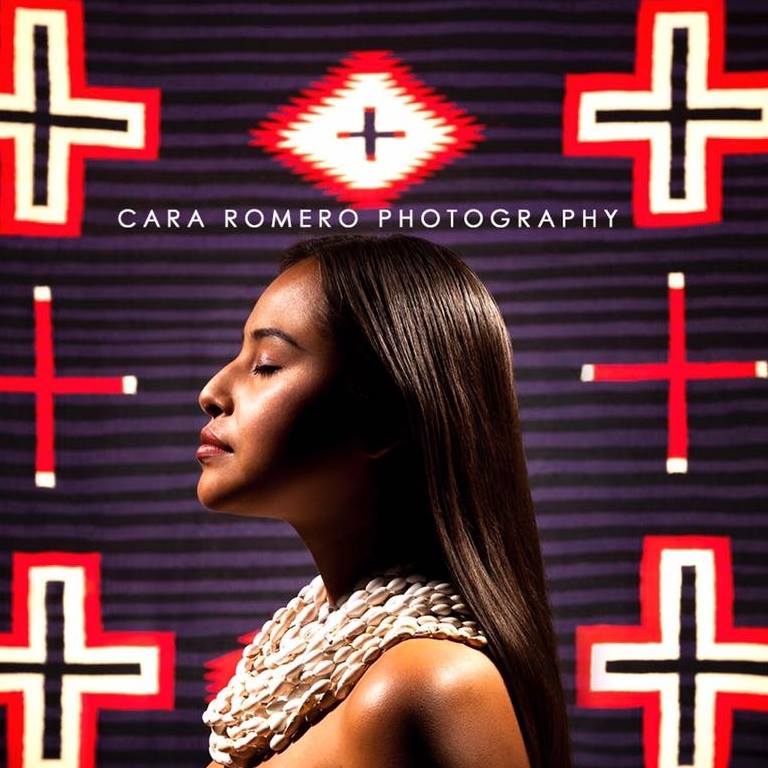 A solo exhibition of ground-breaking works by Native American fine art photographer Cara Romero.
Cara Romero was raised on the Chemehuevi Valley Indian reservation along the California shoreline of Havasu Lake in the heart of the Mojave Desert. She is a born visual storyteller with a unique ability to illuminate and communicate subtle and complex perspectives on contemporary Indigenous life. Whether highlighting the fragile relationship between humans and the natural world or celebrating the individual identities of the people around her, Cara Romero invites us to marvel at the beauty, colours and textures of her worldview and to understand the challenges that face Indigenous communities across the continent.
"I am deeply committed to making work that addresses Native American social issues and changes the way people perceive Native Americans, especially Native women, in contemporary society. If we want respect, love and beauty among us and others, we must actively promote it through our art." Cara Romero
In the above image 'TY', model Ty Harris (Navajo) is wearing a handmade necklace of white olive shells by Leah Mata (Chumash). Leah Mata collected the shells from Chumash territory on the California coast over a period of five years. The blanket is a traditional Navajo weaving from the 1920s or 30s.  This photograph is a visualisation of thousands of years of shell trade between Native women of California and the Southwest.
Through intimate portraits and playful images, this exhibition offers an authentic view of Indigenous identities, cultures and landscapes by one of the most exciting contemporary Native artists of our time.
Thursday 8th March
To coincide with the opening of the Cara Romero exhibition, Rainmaker Gallery Director Joanne Prince will be speaking as part of the Bristol Museum Winter Lecture series. The talk 'Native American Photographers'  takes place on International Women's day and will focus on the work of Chemehuevi fine art photographer Cara Romero, whose powerful tryptich 'Water Memories' is now in the permanent collection of the Bristol Museum. In this talk we will see how Native American photographers create modern narratives from within tribal communities, where native people hold the cameras and present themselves as empowered, complex and contemporary individuals.
Register here for this event:
https://www.bristolmuseums.org.uk/bristol-museum-and-art-gallery/whats-on/winter-lecture-native-american-photographers/