Feather Earrings by Pat Pruitt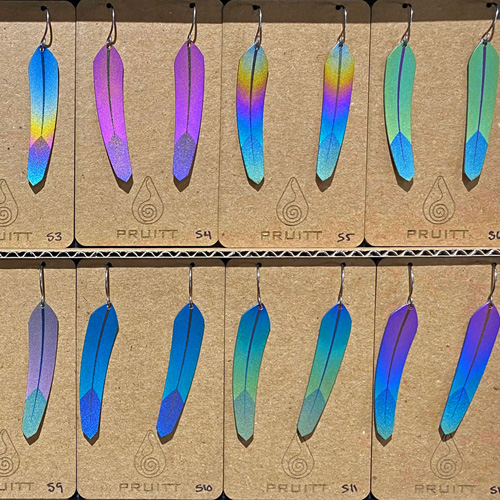 On this the first day of summer and the longest day of the year, I am delighted to announce the arrival of Pat Pruitt's long awaited feather earrings!
These magnificent feathers are crafted from titanium and individually anodised to create the unique colour combinations of each pair. The markings reference eagle feathers and the joyful colours are reminiscent of parrot plumage. Both eagle and parrot play pivotal roles in the emergence stories of the Southwest tribes.
The feathers come in two sizes, long 7.5cm and short 5.5cm.
Rainmaker Gallery is honoured to participate in this beautiful collaboration which anticipates the emergence of our respective communities from lockdown and celebrates the extraordinary ways in which we support one another through times of transition and adversity.