KEEPERS OF THE FIRE, 27 September – 5 November 2022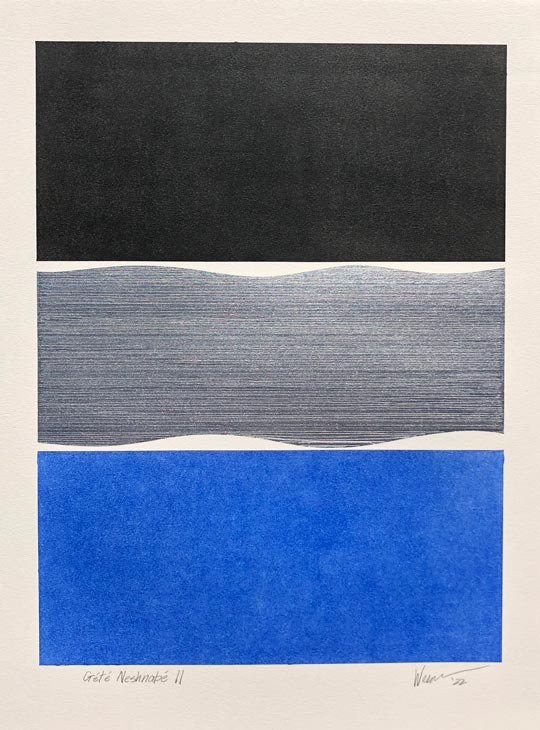 This exhibition brings together the work of Jason Wesaw and Douglas Klemm. Both artists are citizens of Pokégnek Bodéwadmik (Pokagon Band of Potawatomi Indians).The Potawatomi Nation are known as the 'Keepers of The Fire' amongst the tribes of the Three Fires Confederacy.
Both artists express a profound relationship to and respect for the land.The minimalist drawings of Wesaw are juxtaposed with richly textured landscape paintings by Klemm.
Through expanses of carefully chosen colour drawn with oil pastel on incised archival paper, Wesaw describes a deep connection to nature and his ancestral homelands.
"My work focuses on observing how nature organizes and influences us. The bold colors and simple patterning lend itself to a visual language that comes across more meditative and reflective in the way we feel when seeing a beautiful sunrise or looking out across a vast expanse of mountains. Spirit manifests itself in these sacred places. It is this amazement, this wonder, that is at the heart of our relationships in the natural world and forms the core of our identity as 'Keepers of the Fire'." Jason Wesaw
As a landscape artist Klemm is directly inspired by the natural world. "Composition is very important as are the design elements of form, line, color, texture, rhythm, repetition and balance. If I use a photo reference, it must be one I have taken myself. I need to be on-site to experience the energy, details and spirit of the land." Douglas Klemm
This exhibition calls on us all to be more respectful of the lands that we inhabit.