LEAH MATA, Artist Talk and reception – 13 June 2019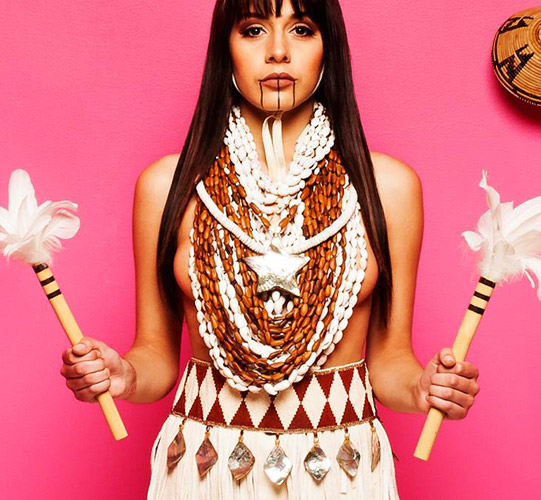 Book now for our summer Artist Talk with Leah Mata and learn about Northern Chumash traditional arts and culture.
Leah Mata is a member of the yak tityu tityu (the people) Northern Chumash tribe, located on the Central California Coast. As a traditional Northern Chumash artist, Leah creates contemporary living forms of regalia and jewellery that are blended with traditional knowledge and rooted in the past yet incorporate her own unique contemporary artistic expressions.
Leah, along with her family, must gather materials seasonally before they can be processed and used. Given that most of the resources needed are natural, it can require years of planning to create items of traditional Northern Chumash material culture. Leah is committed to environmental issues that play a role in the sustainability of natural resources required to maintain her traditional arts. Finding ways to ensure each generation can practice these art forms is an essential and integral part of Leah's artistic process.
Artist Talk with Leah Mata: Thursday 13 May 3pm – 4pm at Friends Meeting House 126 Hampton Road Bristol BS6 6JE (£5). To book please contact gallery@rainmakerart.co.uk
Artist Reception with Leah Mata: Thursday 13 June 6pm – 8pm at Rainmaker Gallery (free).
Featured image 'Naomi' (detail) by Cara Romero.