NATIVE COLOR November 2017 – February 2018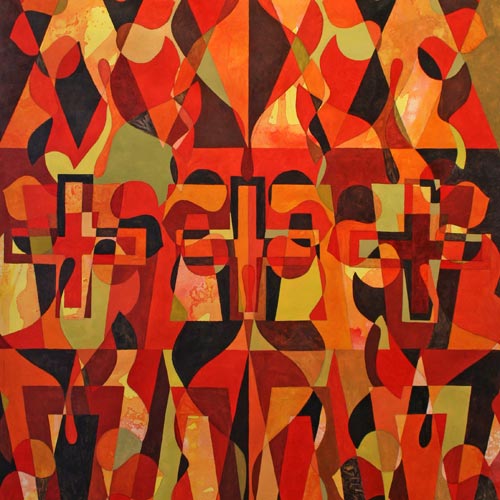 This group exhibition celebrates contemporary Native American artists who are each renowned as great colourists:
Tony Tiger, Yatika Starr Fields, Nocona Burgess, Debra Yepa-Pappan, Cara Romero, Billy Hensley, Dan Viets Lomahaftewa
Colour by itself is a truly cross-cultural experience and yet is often inflected by specific cultural traditions, as in the paintings of artist and curator Tony Tiger whose work is the focus of this exhibition.
Tony Tiger's paintings with bright hues of red, orange, ochre, sky blue and grass green mixed with deeper browns and purples as contrast, reveal his appreciation of the 'wonder of color' in nature. Tiger, a Muscogee, Sac and Fox and Seminole artist, is also inspired by the uses of colour in the traditional ribbon-work appliqué designs of Sac and Fox regalia and in Seminole patchwork, both of which show expressive and highly creative uses of colour.  
Colour is often inflected by certain cultural traditions and symbolic meanings significant to a particular group. The colour red, for example, is a very potent symbolic and metaphysical sign in a number of North American Indigenous traditional beliefs; and Tiger's work, as well as that of many of the others on show, makes reference to that.  Crucially, the creative cross-cultural sharing of beliefs and symbols among Indigenous groups in Oklahoma, where Tiger is based, developed after their forced 'Removal' (a term which hides the fact that this was a form of ethnic cleansing) from the South-eastern part of the United States and their resettlement together in Oklahoma which occurred from the 1830s onwards.
Other artists to be featured in the exhibition include Osage, Creek and Cherokee artist, Yatika Starr Fields, who describes his canvases as "sensation through color and movement".  The vibrant colour contrasts and powerful forms of his oil paintings speak to a rapidly developing, contemporary environment for Native peoples. Cara Romero, Chemehuevi fine art photographer, whose carefully constructed and richly coloured photographic portraits and studies reveal a deep understanding of Indigenous attitudes to colour and form. Debra Yepa-Pappan, Jemez Pueblo and Korean artist, whose printmaking delights and informs with witty and colourful juxtapositions of contemporary culture and Indigenous imagery. Comanche painter Nocona Burgess who has perfected a method of applying vibrant pigments onto dark backgrounds that he describes as "painting outward". This method produces the richly contrasting colours of his distinctive canvases. Chickasaw painter Billy Hensley; and the late Hopi and Choctaw artist Dan Viets Lomahaftewa who enjoyed a career that encompassed several phases, each characterised by a unique and distinctive colour palette.
NATIVE COLOR highlights the range and depth of colour investigation, knowledge and experimentation flourishing within 21st century Native American art.