RANDY L BARTON, 17 May – 12 August 2023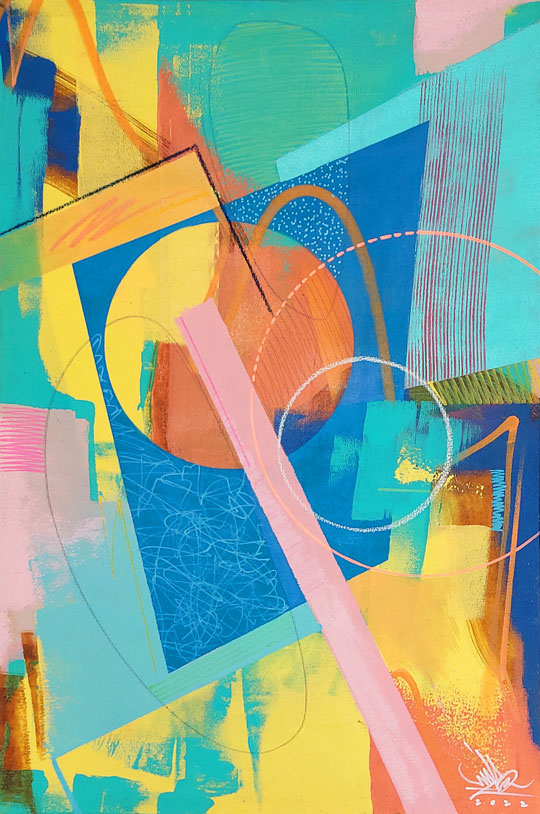 In this series of abstract paintings Diné artist Randy Barton explores the Bauhaus Movement through the lens of graffiti art.
Barton is a neo-contemporary Native artist, designer, dancer, DJ and music producer from the Navajo Nation in Arizona.
The foundation of his work derives from the unique combination of his background in graffiti art and the traditional Navajo teachings and ceremonies that began shaping his life at an early age.
His paintings showcase the Navajo Beauty Way (divine feminine) and Protection Way (divine masculine) with hip hop undertones and are inspired by the colours and hues of heightened states of awareness.
He transforms acrylic and aerosol paint into stimulating abstract landscapes of time travel, rainbow walking, reflection and soul remembrance manifested from the spirit realm.
Each brushstroke is a prayer and a moving meditation from spirit to canvas. The artist's intention is to utilise art as a vehicle to uplift the soul and promote healing and awareness.
Barton was commissioned to design illuminated graphics for the 2023 Super Bowl. His exploding Navajo rug animation, inspired by the traditional weavings of his grandmother, lit up screens around the stadium throughout the event.