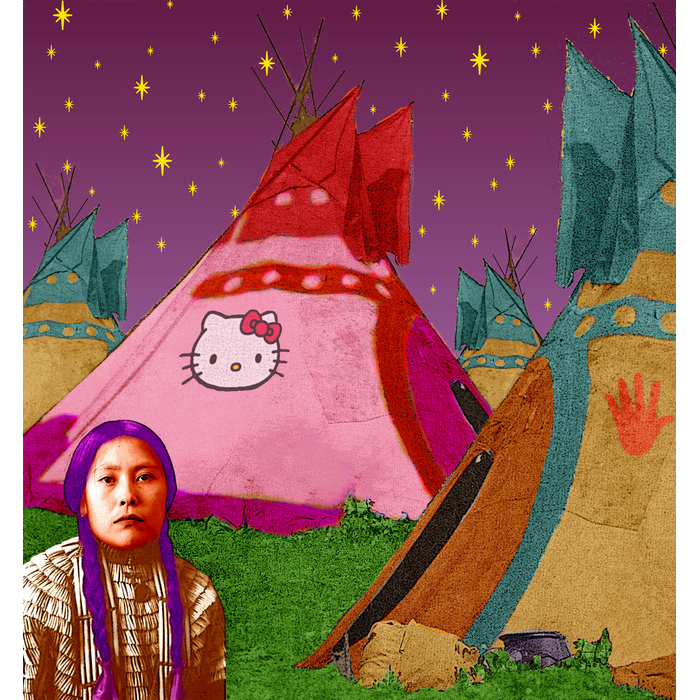 Summer at RAINMAKER has been so much fun this year. The exhibition launch was a joy. Visiting artists Chris Pappan and Debra Yepa-Pappan spoke eloquently and charmed us all. They fell in love with Bristol, Bath and London and had a wonderful time.
Thank you to all those involved in the exhibition, especially Chris and Debra for creating such amazing art and for travelling so far, to Max for his invaluable curatorial skills and inexhaustible knowledge and support and to all of you who came along and made them so very welcome.
I am delighted by the news that Chris is featured on the cover of the current issue of Native Peoples Magazine. The whole family also grace the cover of the 2104 Santa Fe Indian Market Magazine. Santa Fe Indian Market is the biggest Native Arts event of the year with collectors travelling from around the world to invest in Art. Needless to say this makes Chris and Debra's work even more valuable.
Congratulations to all those art lovers with red dots in place. First People, Second City runs until Saturday 9th August. if you haven't seen the exhibition yet or you would like to take another look, now is your chance. If you are unable to visit in person you can view some of the work on the website by following these links: Chris Pappan and Debra Yepa-Pappan.
Once again the magical time for me to go in search of more fabulous jewellery and art is fast approaching. Whilst I am away Rainmaker will be closed from August 17th until September 2nd. A brand new and exciting selection of contemporary Native art and jewellery will be available for you to enjoy on my return. If you have any special requests do pop in to see me before I go.
With love and sunshine!
Jo x