'BRIGHT PATH', 21 June – 28 September 2019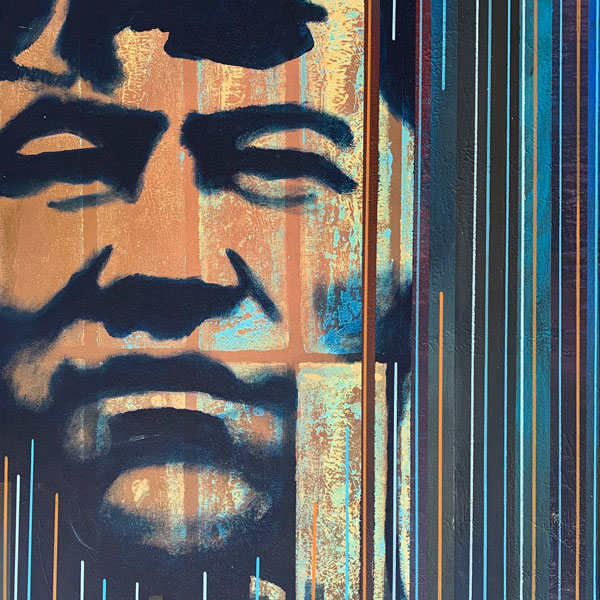 In this solo exhibition of acrylic paintings Chickasaw artist Billy Hensley honours two Native American trailblazers: Chickasaw actress and storyteller Te Ata and Olympic gold medalist Jim Thorpe. Prophetically, Thorpe's Sauk (Sac and Fox) name Wa-Tho-Huk translates as 'path lit by a great flash of lightning' or more simply Bright Path. Hensley interweaves images of these Indigenous icons with complex layerings of colour, texture and geometric patterns.
Hensley is a self-taught artist who draws his inspiration from the world around him, even when his paintings seem abstract. In his own words: "I try to stay true to myself through my art. Painting is a way to express day to day subject matter." Through the shifting light of his rhythmic lines emerge twilight hues, shadowy forms and creatures of the natural world. The bold stripes of Hensley's canvases reference the appliqué embellishments of 'ribbon shirts' and 'ribbon skirts' widely worn by Native tribes today. This colourful attire is a way to celebrate and assert Indigenous individual and collective identity, and to combat the invisibility of Native peoples in North America.
Bright Path is a visually rich exhibition that hints at the countless lives lived by Indigenous people whose stories, both everyday and inspirational, have frequently been eclipsed by layers of colonial indifference and oppression. Billy Hensley challenges us to look more deeply into the world that surrounds us in order to appreciate the lives and lifeforms that are too often obscured and overlooked.
Please note that the Gallery will be closed from 11 August – 2 September 2019.