Cannupa Hanska Luger in conversation 9 May 2019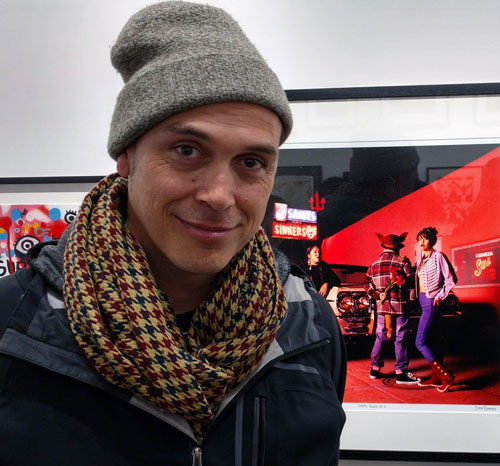 Join Canuupa Hanska Luger for an inclusive open discussion and learn about Settlement, his planned occupation of Central Park, Plymouth, during the Mayflower 400 festival in 2020.
Cannupa Hanska Luger is an internationally celebrated, multi-disciplinary artist and activist, and recipient of the Burke Prize, a prestigious national award for creative innovation. Raised on the Standing Rock Reservation in North Dakota, he is of Mandan, Hidatsa, Arikara, Lakota, Austrian and Norwegian descent. Through monumental installations that incorporate ceramics, video, sound, fibre, steel, and cut-paper, Cannupa interweaves performance and political action to communicate stories about 21st century Indigeneity. His recent works include Every One (2018), composed of over 4000 handmade clay beads, created by hundreds of communities across the U.S. and Canada to re-humanise the data of missing and murdered Indigenous women, girls, queer and trans community members; and The Mirror Shield Project (2016), which invited the public to create mirrored shields for water protectors opposing the construction of the Dakota Access Pipeline at Standing Rock.
"I am motivated to reclaim and reframe a more accurate version of 21st century Indigenous culture and its powerful global relevance." CHL
Cannupa is one of sixteen artists whose work is featured in THE YOUNG AMERICANS exhibition at Rainmaker Gallery.
Book now for a fascinating insight into the work of this extraordinary artist.
Thursday 9th May 2019  3pm – 4pm, Friends Meeting House, 126 Hampton Road BS6 6JE
Contact  Jo@rainmakerart.co.uk     tel. 0117 944 3101     www.rainmakerart.co.uk