The Young Americans – 21 March – 15 June 2019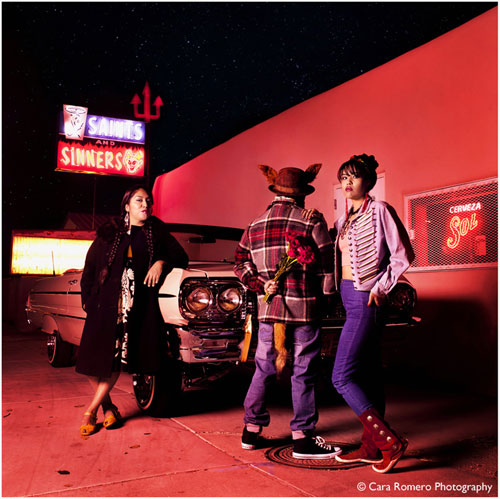 Thursday 9th May: an open discussion with artist activist Cannupa Hanska Luger followed by a gallery reception (see below).
This spring Rainmaker Gallery showcases a new generation of Native American artists. These young creatives bring an explosive visual mix of techniques, experimentation and individual perspectives that shatter clichéd perceptions of 'Indian' art and life.
"As a Native contemporary artist and craftsperson of North America, I am motivated to reclaim and reframe a more accurate version of 21st century Indigenous culture and its powerful global relevance." Cannupa Hanska Luger
The Young Americans presents photography, printmaking and painting by sixteen artists from twenty tribal nations. Many of these artists are drawn from the alumni of the Institute of American Indian Arts, a well-spring of creative innovation since the 1960's. Building on the legacy of those groundbreaking indigenous artists who came before them, these young Americans are unapologetically forward looking and simultaneously self-reflective. They offer a refreshing perspective on what it means to grow up in the United States today.
The exhibition features bold prints by Jordan Craig, colourful abstractions by Terran Last Gun and an astonishing reconstructed self-portrait by Greg Ballenger. It includes the supernatural narrative photography of Cara Romero, dynamic figurative images by Manuel Ramirez and vibrant artworks by Yatika Starr Fields and Phillip Vigil.
Collectively these artists embrace influences from traditional Native American design and 18th-century portraiture to contemporary street art and Japanese anime, creating a rich experience of pattern, texture, colour and content.
The contemporary expressions included in this exhibition are a snapshot of the vast Native American talent very much alive and making a mark in the world. Educated, articulate and fearless, this generation of Native artists epitomises the exciting and fast-changing scene of indigenous art. These are The Young Americans of today – indigenous, dynamic and indomitable.
Featured artists include George Alexander (Muscogee) Marla Allison (Laguna Pueblo) Greg Ballenger (Navajo) Jordan Craig (Northern Cheyenne) Yatika Starr Fields (Osage, Cherokee & Creek) Terran Last Gun (Piikani) Cannupa Hanska Luger (Mandan, Hidatsa, Arikawa) Robert Mesa (Navajo & Soboba) Mikayla Patton (Oglala Lakota) Manuel Ramirez (Otoe-Missouria) Cara Romero (Chemehuevi) Kali Spitzer (Kaska Dena & Jewish) Eugene Tapahe (Navajo) Zoe Urness (Tlingit & Chrokee) Phillip Vigil (Jemez Pueblo/Jicarilla Apache) Crystal Worl (Tlingit & Athabascan) Will Wilson (Diné).
Rainmaker Gallery thanks Erika Knecht (institute of American Indian Arts).
CANNUPA HANSKA LUGER – Thursday 9 May 2019
Join artist activist Cannupa Hanska Luger in conversation on Thursday 9th May. As visiting artist for The Young Americans exhibition, Cannupa and his family will be travelling to Bristol for an artist reception at Rainmaker Gallery. The reception will be preceded by an 'artist talk' in the form of an open discussion, to which you are all invited.
Artist Talk: Thursday 9 May 3pm – 4pm at Friends Meeting House 126 Hampton Rd Bristol BS6 6JE (£5). To book please contact jo@rainmakerart.co.uk
Artist Reception: Thursday 9 May 6pm – 8pm at Rainmaker Gallery (free).