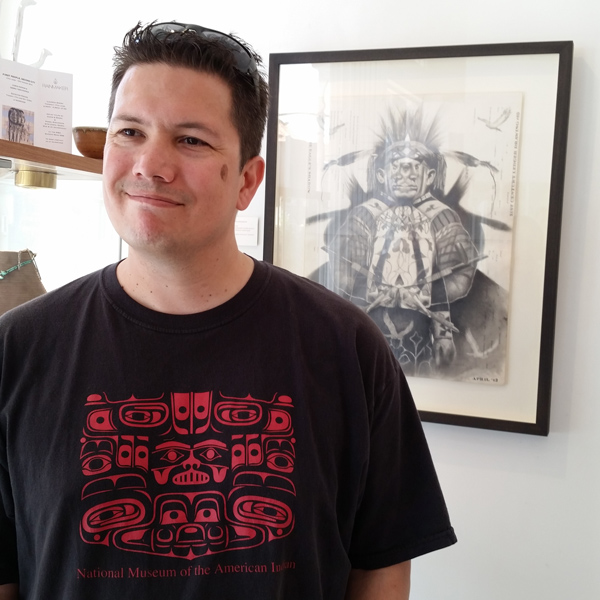 Chris Pappan
Chris Pappan is an American Indian artist of Osage, Kaw, Cheyenne River Sioux and mixed European heritage. His art confronts the dominant culture's distorted perceptions of Native peoples whilst proclaiming that "we are still here!" Currently his artwork is based on American Indian ledger drawings of the mid to late 19th Century while giving them a 21st Century twist.
Acclaimed as one of North America's most promising Native American artists, Chris Pappan is known for his innovative approach to the traditional cultural expression known as 'ledger art'. Also known as the 'art of captivity' this art is associated with Plains Indian war prisoners' desire to depict their memories on ledgers at the end of the nineteenth century. Having emerged during a dramatic period in Native American history, ledger art most notably coincides with the establishment of reservations and the violent end of old nomadic lifestyles.
This art is the point of departure that Chris Pappan has chosen to reflect upon Native American history through the production of portraits on ledger paper. These paintings and drawings approach indigenous peoples' experiences with strong emotive impetus, remarkable skill, and photographic detail. Pappan's art shows a concern with the present, while looking at the past. He reproduces old photographs to address current and historical issues such as land loss, tradition, and customary knowledge. While paying homage to his Native ancestry his images simultaneously respond with sincere passion to the ongoing struggles of contemporary Native peoples, which like the artist himself, live in large numbers in big urban centres. Often dubbed as 'the invisible minority' urban Native Americans keep struggling for recognition in wider society, making issues of identity, so central to Pappan's work, a pivot around which cultural, political and civil rights are contended.
Pappan's use of portraiture carries these important messages to the wider public through a personal take on this genre, which he adopts twisting, doubling, overlapping or otherwise altering faces as if deformed through a circus mirror. It is in the intensity of these warped looks that Pappan asks the viewer to engage with both the past and the present, almost as if he wanted the public to pause and watch with astonished captivation the details of histories that very few know.
By way of a thoroughly personal technique Pappan draws us all into experiences with his characters that while seemingly distant, belongs to all of us, because they make us reflect on the falsifications of history and the tyranny of representations. While captivating us with their trickery, these portraits reveal painful past and present experiences, which Pappan like a modern-day storyteller, retells us with genuine candour and the respect he transmits in the care with which he crafts the hypnotising faces of his bygone sitters.  Max Carocci 2014.
Chris Pappan is the winner of the prestigious Discovery Fellowship from the Southwestern Association of Indian Artists (SWAIA) in 2011 and the Heard Muesum's Best of Class (Paintings, Drawings, etc) and Best of Division (drawing) at the 52nd Annual Indian Market 2010. Chris' work is in the collections of the Spencer Museum of Art, Kansas, Mitchell Museum of the American Indian, Illinois, The Schingoethe Center for Native Studies in Aurora Illinois and private collections around the world. He is currently working on a major project for The Field Museum in Chicago.
Chris Pappan, his wife Debra Yepa-Pappan and their daughter JiHae visited Bristol for the opening of their exhibition FIRST PEOPLE, SECOND CITY co-curated by Dr Max Carocci from the British Museum and Joanne Prince, Director of Rainmaker Gallery.
Artist's Statement:
I am an American Indian. I am Osage, Kaw, Cheyenne River Sioux, and mixed European heritage.
I don't walk in beauty, I just try not to step in dog shit.
I don't listen to the wind, I listen to people's cell phone conversations.
I go to Pow Wows to celebrate a pan-Indian culture.
I don't walk the Red Road, I walk down Kedzie Boulevard. I live 20 feet above the earth.
I listen to Norwegian Black Metal and 70's Prog Rock.
I need to learn the language of my people.
I make paintings to bring awareness that Indians are still here.
I distort images because people perceive a distorted image of Native Americans in the collective conscience.
I prefer the term Indian over Native American, but I use both.
I wonder why many people want to know what "percentage" Indian I am.
I am blessed in that I don't know anyone who is currently addicted to drugs, been a victim of domestic violence or committed suicide.
I am blessed in that I have a loving wife and beautiful daughter.
I am an American Indian living in the 21st century.
Rainmaker Exhibitions featuring Chris Pappan