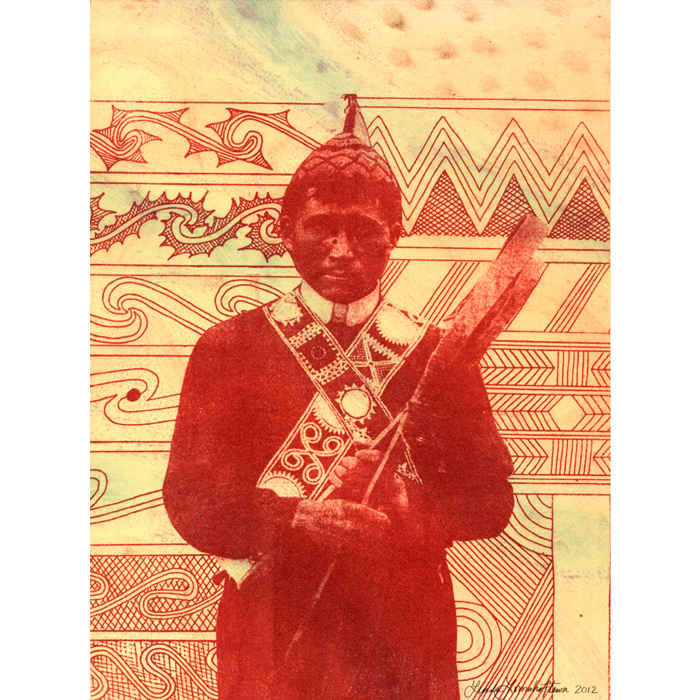 JUNE 13th – JULY 25th 2012
TONY ABEYTA, MARCUS AMERMAN, SHONTO BEGAY, DAVID BRADLEY, KELLY CHURCH, MELISSA CODY, EDGAR HEAP OF BIRDS, FRANK BUFFALO HYDE, LINDA LOMAHAFTEWA, AMERICA MEREDITH, CHRIS PAPPAN, DEBRA YEPA-PAPPAN, CARA ROMERO, DIEGO ROMERO, MATEO ROMERO, SARAH SENSE, RYAN SINGER, MICAH 'WERE WULF' WESLEY.
'MESSENGERS 2012' brings together the work of eighteen important contemporary Native artists from tribes across America. From beadwork to photography, weaving to painting, each artist has developed a personal expression of what it is to be American Indian in today's changing world. Using art as a means of communicating across cultures, colonial borders and linguistic barriers they eloquently transmit powerful visual messages to a wider world in decline.
Launch Events
EXHIBITION PREVIEW 
Wednesday 13th June 5pm – 8pm
MESSENGERS 2012 includes the following programme of talks, presentations, film screenings and book signings. Tickets cost £5 for each event or £15 for all four events. Advance booking is advised as seating capacity is limited. To book please contact Jo at RAINMAKER tel. 0117 944 3101 / jo@rainmakerart.co.uk.
AN ATTITUDE OF CREATIVITY
presentation by Choctaw artists MARCUS AMERMAN
Thursday 14th June, 1.00 – 2.00pm
Native experience and mainstream popular imagery collide in glorious technicolour as boundary-breaking artist Marcus Amerman fearlessley uses paint, beads, glass, textiles and performance to make bold political statements. Reflecting on the creative culture in which he was raised, Amerman speaks candidly about his compulsion and uncompromising commitment to creating art without limitations.
MOUNDBUILDERS:
Exploring the Ancient South Eastern Woodlands with AMERICA MEREDITH
Thursday 14th June, 2.30 – 3.30pm
Cherokee artist America Meredith discusses her recent exploration into the tribes of Arkansas, Tennessee, Georgia, North Carolina, Alabama, Oklahoma and Mississippi. Taking us on a journey through the ancient ceremonial sites that she visited, Meredith unearths the tribal histories bound to these sacred landscapes, and discusses how the culture of these peoples finds a growing expression in her own artwork.
MOST SERENE REPUBLICS & WHEEL
Films, open discussion and book signing with EDGAR HEAP OF BIRDS
Thursday 14th June, 4.30 – 6.30pm
Two films documenting Edgar Heap of Birds' Venice Biennale project, and medicine wheel sculpture at Denver Art Museum, will be shown for the first time in the UK. The Cheyenne and Arapaho artist and professor of Native American studies discusses the politics, culture and history underpinning his art. Heap of Birds' monuments to memory unflinchingly return episodes from Native history to contemporary consciousness, acting as a call to remembrance and honour.
WEAVING THE AMERICAS
Presentation and book signing by artist SARAH SENSE
Thursday 14th June, 7.30 – 8.30pm
Choctaw and Chitimacha artist Sarah Sense shares stories of her interactions with indigenous artistic communities as she travelled across the American continent.'Weaving The Americas' is a personal journey, a true and current story of a continent manifest as a series of extraordinary works of art, and a book containing photographs and transcripts from interviews with the tribal artists whom she encountered.