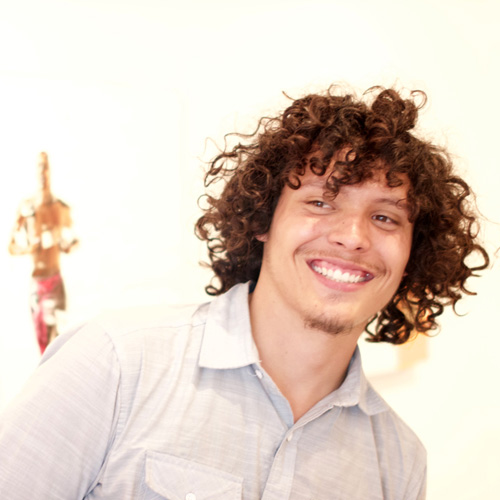 Del Curfman
Del Curfman is an enrolled member of the Crow tribe of Montana. He is a young professional artist who's talent is already celebrated within the Native art world. Curfman has a BFA from the Institute of American Indian Arts in Santa Fe, NM.
"As I study more about the history of my people and try to learn the language, the rights of passage, the values of the Crow, I find my art transforming into a vessel, a passage through which information travels." D.C.
In June 2016 Del Curfman travelled from his home in Santa Fe New Mexico to Rainmaker Gallery, Bristol UK for the opening of his first solo exhibition APSÁALOOKE. This exhibition presented three series of oil paintings represented below:
The Vanishing series, portrays culturally significant figures painted in loose impressionistic strokes on textured white backgrounds. Bold blocks of colour offset dynamic depictions of the Crow Indian runners, riders and dancers who participated in the 2015 Crow Fair. Curfman captures time, space and movement in these potent portraits of present day Crow culture that belie the common notion of a "vanishing race".
In the Solstice series Curfman presents paintings of individual animals and birds from the creation stories of the Apsáalooke. The stories speak of Rainbow Crow and Old Man Coyote, who moulded the earth. The animals came into existence as he spoke their names. Curfman paints these animals in a gestural impressionistic style on heavily textured backgrounds, worked with broad strokes of a palette knife.
In contrast, the Remembrance series draws on 18th and 19th century photographs of traditional Crow life as seen through the lens of Native American photographer Richard Throssel. Lone figures are worked in monochromatic under painting with sepia toned glaze. Contrasting planes of bold colour make up the backgrounds. The collection features six paintings: three children, the daughter of a significant tribal leader, a sister's pregnancy, and the grandmother beading. In these compositions Del Curfman honours and respects tradition, culture, and the importance of women and children as highlighted by the symbolic Tribal appreciation of the golden ground they stand on.
In 2015 the Southwest Association of Indian Arts (SWAIA) awarded Curfman a fellowship  and his striking images were used to promote the Santa Fe Indian Market – the largest Native arts event of the year. Crow Indian culture is a constant influence on his life and work.
Rainmaker Exhibitions featuring paintings by Del Curfman