Birds Beasts & Butterflies, 1 November – 28 February 2019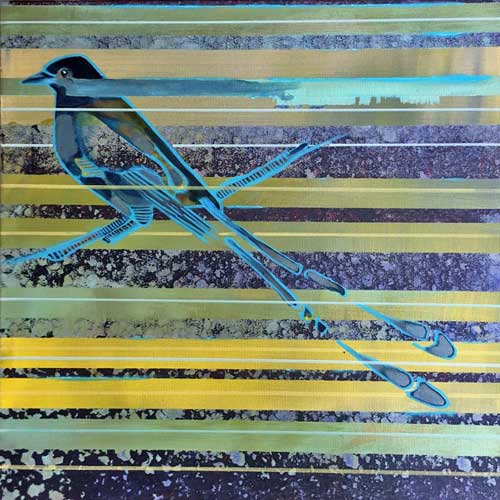 This winter exhibition brings together works by several contemporary Native American artists who, through a variety of styles and media, express their individual connections to the natural world.
Pacific Northwest Coast artist Preston Singletary immortalises regional fauna in traditional Tlingit formline serigraphs. The black and white photography of Eugene Tapahe encounters iconic American wildlife in natural habitats. In contrast, Chickasaw artist Billy Hensley celebrates his love of nature in a series of richly coloured and patterned canvases. The paintings of Nocona Burgess and Del Curfman honour the iconic relationship between the Horse and the tribes of the Great Plains and pay homage to the cultural importance of Raven and Crow. In subtle hues of grey and white George Alexander and Micah Wesley acknowledge the role of birds as spirit messengers. Crucially, the vibrant paintings of Yatika Starr Fields and Tony Tiger highlight the fragility of the natural world through abstracted butterfly imagery.
Native American peoples traditionally regard animals as fellow creatures sharing a common destiny. Many Native Nations pay homage to such relationships by incorporating animals into their cultural and spiritual lives.
This exhibition calls us to be mindful of our fellow creatures, to learn from them, respect them and to understand that their survival is inextricably linked to our own.
Featured artists:
Tony Abeyta, Navajo
Margeaux Abeyta, Navajo & Taos Pueblo
George Alexander, Muscogee Creek
Nocona Burgess, Comanche
Del Curfman, Crow
Yatika Starr Fields, Osage, Creek & Cherokee
Billy Hensley, Chickasaw
Dan Viets Lomahaftewa, Hopi & Choctaw
Alison Marks, Tlingit
America Meredith, Cherokee
Debra Yepa-Pappan, Jemez Pueblo & Korean
Preston Singletary, Tlingit
Eugene Tapahe, Navajo
Tony Tiger, Muscogee / Sac & Fox-Seminole
Micah Wesley, Kiowa & Muscogee