MARLA ALLISON: PAINTER FROM THE DESERT 6 June – 11 August 2018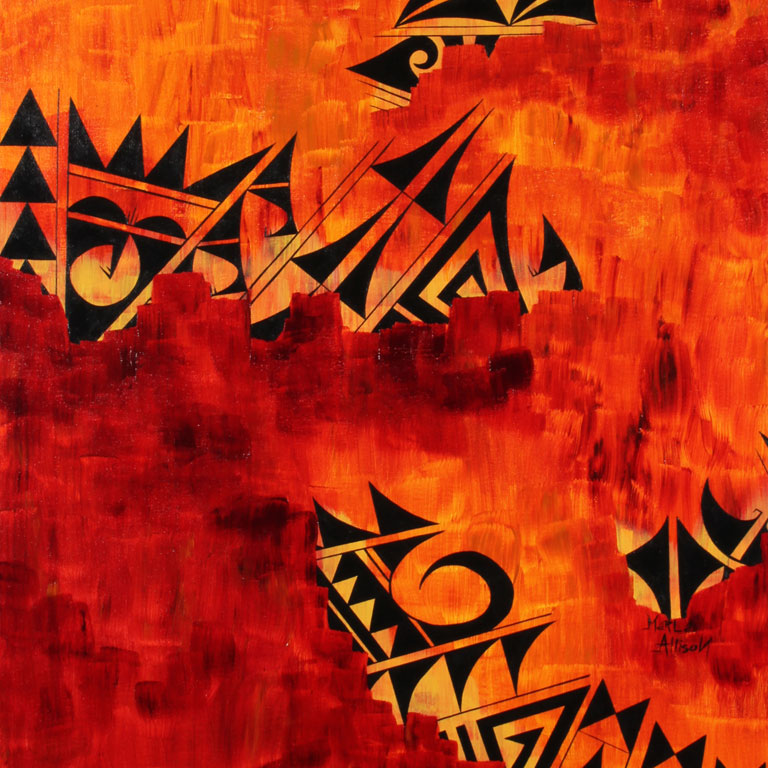 A solo exhibition of acrylic paintings by 2018 artist-in-residence Marla Allison.
In this solo exhibition artist Marla Allison presents paintings created in her Laguna Pueblo studio, alongside canvases painted during a four week artist residency at the Bristol Museum and Art Gallery in May of this year.
This exhibition opens on 6th June with a one day symposium 'Indigenous Art in Britain' at Bristol University, followed by an artist reception at Rainmaker Gallery 6-8pm.
As a Native artist from the American southwest, Marla Allison draws on her Laguna and Hopi heritage. Her acrylic paintings reference traditional pottery designs, historic photographs, the natural world and contemporary culture. By bringing together these disparate elements, Marla creates her own distinctive visual language.
"My paintings are based on the contemporary which borrows from the past. I paint because I was passed down a gift from my grandfathers. I paint to continue what they started. I paint so I remember where I came from. I paint so others can remember where I came from. I paint to be remembered." Marla Allison
The paintings in this exhibition reflect the continuous evolution of artistic styles in the contemporary Native American art movement.
In addition to paintings this exhibition includes a range of jewellery designed in collaboration with celebrated artist and jewellery maker Pat Pruitt.
Read an interview with Marla Allison from her artist residency here.
Featured image 'Ancient Layers Of The Earth' (detail) acrylic on canvas 20″x40″
This exhibition and artist residency form part of 'Beyond the Spectacle: Native North American Presence in Britain', a multi-disciplinary research project based at the University of Kent and the University of East Anglia, and funded by the Arts and Humanities Research Council.