Symposium: Indigenous Art in Britain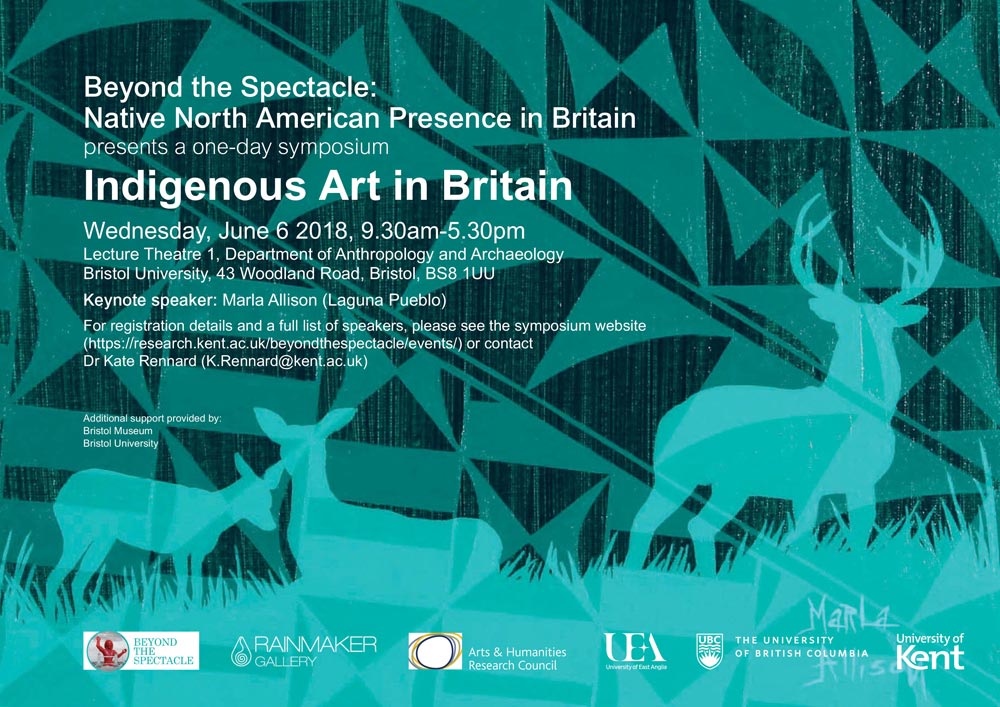 Learn about the presence and presentation of Native American and First Nations art in the UK directly from Native artists, curators and researchers at this one day symposium. Meet artists Marla Allison (Laguna Pueblo), Pat Pruitt (Laguna Pueblo and Chiricahua Apache), Sarah Sense (Chitimacha / Choctaw) and George Alexander (Muscogee (Creek)).  This unique event begins at Bristol University Department of Anthropology and Archaeology on Wednesday 6th June, and ends with the opening of our summer exhibition Marla Allison: Painter From The Desert at Rainmaker Gallery.
Marla Allison is our 2018 artist in residence. She will be in Bristol for one month from May 10th and will be the keynote speaker at the symposium.
Click here to find out more: http://blogs.kent.ac.uk/bts/2018/03/15/indigenous-art-in-britain/
Click here to book: https://store.kent.ac.uk/product-catalogue/faculty-of-humanities/school-of-english/events/indigenous-art-in-britain-symposium-tickets
ITINERARY :
9:30 – 9:45 Introductory Remarks
9:45 – 11:15  Picturing Indigeneity: Historical Representations
Stephanie Pratt (Dakota and Anglo-American), Robbie Richardson (Mi'kmaq), Coll Thrush 11:15 –
11:30 Tea and coffee
11:30 – 13:00  Transnational Indigenous Art: An Artists' Roundtable
George Alexander (Muscogee (Creek)), Marla Allison (Laguna Pueblo), Pat Pruitt (Laguna Pueblo and Chiricahua Apache), Sarah Sense (Chitimacha / Choctaw) CHAIR: Joanne Prince (Rainmaker Gallery)
13:00 – 14:15 Lunch
14:15 – 15:45  Curating and Exhibiting Native Art in Britain
Max Carocci, Joanne Prince, Louise Siddons
15:45 – 16:00 Tea and coffee
16:00 – 17:15  KEYNOTE: Marla Allison – 'Continuing the Tradition of Creation'
18:00  EXHIBITION OPENING: 'Marla Allison: Painter From the Desert'
This will take place at Rainmaker Gallery 123 Coldharbour Road, Westbury Park, Bristol BS6 7SN https://www.rainmakerart.co.uk