YATIKA STARR FIELDS 12 July – 28 October 2017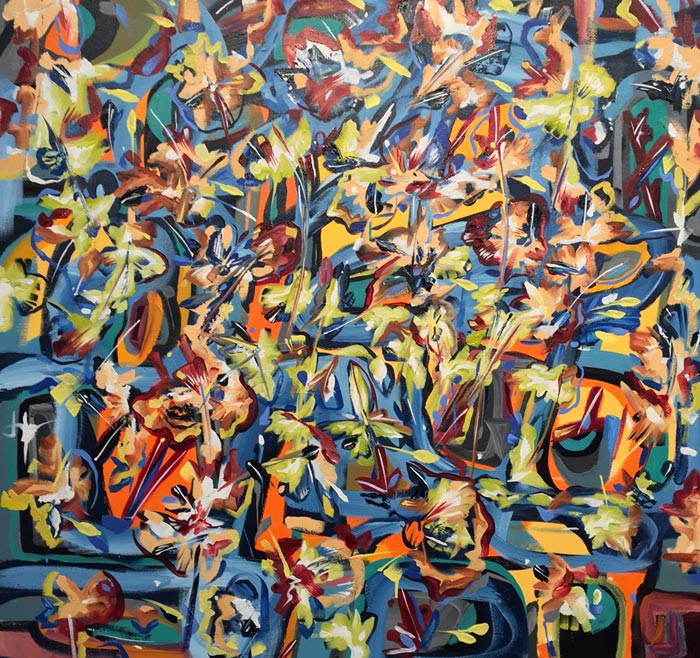 A solo exhibition showcasing the recent work of contemporary Native American painter and muralist Yatika Starr Fields.
Artist Talk with Yatika Starr Fields, 25th July 3-4pm at Friends Meeting Hse BS6 6JE
Artist reception with Yatika Starr Fields, 25th July 6-8pm at Rainmaker Gallery
Yatika Starr Fields' paintings pack a visual punch through intensity of colour and swirling movement. He avoids the linear and perspectival views of much of Western art in favour of an immersive visual field of vivid whirling shapes echoing the vibrancy of life that we see and feel around us. His works have a directness and confidence that produce heightened senses in the viewer, as if on a wild ride through an urban cityscape or plunging deep into the natural world to see it's underlying strength.
"My work begins swiftly and intuitively, as momentum shapes the composition on canvas. I challenge myself to integrate the physical environment around me with its unseen emotional life. Gradually the narrative of the piece is revealed. From here I work to detail the painting's subject in nuances. My process focuses on fluidity of form and boldness of palette, bringing the unseen alive in a way that will inspire in my audience a revelation of ideas, color, and form; reshaping their relationship to what they take for granted." -YSF
Beyond the dazzling effects there is a deeper meaning to these works. Yatika Starr Fields draws on his heritage as a Cherokee, Creek and Osage man immersed in cultural practices from a young age. As a person with Indigenous sensibilities, his Native perspectives are integral to his art in powerful and often understated ways. His pictures are studded with references to tribal traditions, organic forms and aspects of contemporary life.
"I create a synthesis of symbolic forms and objects floating and bending on the canvas at all angles, negating the horizon and the rule of linear experience. The objects and forms represent the past and present from my perspective as a member of the Osage, Cherokee and Creek Nations of Oklahoma surrounded by beautiful colors and patterns joined by rhythm and dance from tradition." -YSF
Since his youth Yatika Fields has been the recipient of an impressive number of awards for his art. He attended the Art Institute of Boston where he continued to paint and became involved in the urban graffiti culture. It was during this time that he started working on mural projects and became known for street art.
Yatika Starr Fields was born in Tulsa, Oklahoma, he is a member of the Cherokee, Creek and Osage tribes, and is Bear Clan. His Creek name "Yvtekv" means Interpreter. His Osage name, Ho-moie, translates as Among the heavenly bodies.
Click here to see more of Yatika's paintings.
To book for the Artist Talk please contact call the gallery on 0117 944 3101 or email gallery@rainmakerart.co.uk