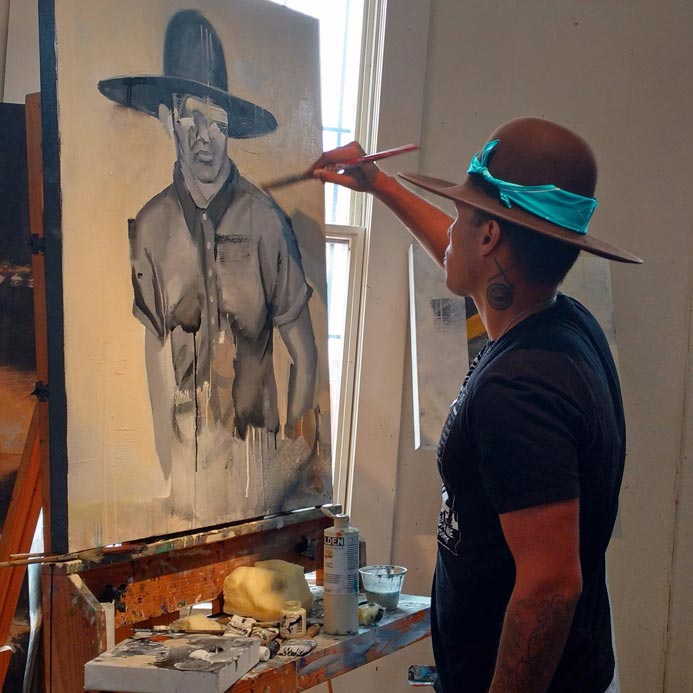 George Alexander
Muscogee artist George Alexander was born in Texas and raised in Okfuskee County Oklahoma. Alexander primarily works with paint and uses his work to challenge audience preconceptions about Native American art. His paintings are bold and energetic with a loose expressive feel to them, developed from an early interest in graffiti and street art. Much of his recent work features animals but historically he has been known for using an astronaut as a recurring motif in his paintings. He draws on his Indigenous heritage as inspiration for his work, juxtaposing iconic Native imagery with his own experiences and symbolism that speaks to his generation.
"I often use an astronaut helmet as a metaphor for humanity. When astronauts look at the earth they do not see religions, races or borders, they just see the wholeness of the world. Today it seems as if we look at people based on these labels, more now than ever, and we judge them because they might be something different than what we pertain to. I believe that we should learn who the individual is first, based on their moral character and not what these cultural labels suggests. This is the only way we can defeat cultural stereotypes and gain a better humanity. For example, just because I am Native American does not mean I have to paint horses and head dresses. There is more to me than these Native motifs can suggest. I want you to know who 'George Alexander' is first, before you see me as Native or any other label.
As I continue to understand who I am as a person, my painting style and unique motifs get broader. This allows me to express who I truly am, which is just an astronaut on a huge spaceship that we call earth." GA
Alexander received his Bachelor of Fine Arts from the Institute of American Indian Arts (IAIA) in 2016. He was honoured as a SITE Santa Fe Scholar and received multiple awards from the American Indian Higher Education Consortium. During his time at the Studio Art College International (SACI) in Florence, he developed his skills with other mediums, including sculpting and jewellery making. He subsequently graduated with a Masters of Fine Arts in 2019.
Rainmaker Gallery has been showing George Alexander's work since 2016. Notably, his paintings were included in 'Birds, Beasts, & Butterflies' in 2018, and in our 2019 exhibition 'The Young Americans'.
Rainmaker Gallery Exhibitions featuring George Alexander